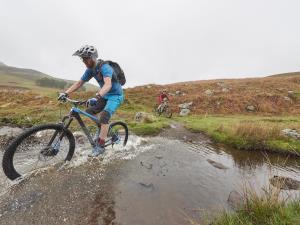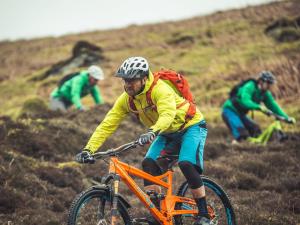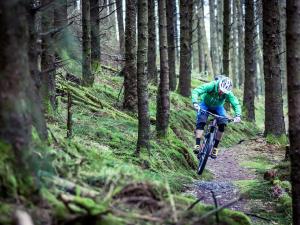 Our speciality is multi-day off road mountain bike riding on two very exciting adventures.

The main tour throughout the summer is the popular IMBA Trans Cambrian, a long distance mountain bike route that snakes it's way through the heart of Mid Wales and climbs over the oldest mountain range in Europe, the Cambrian Mountains. It is 104 Miles in length (160km) approx and takes in around 13,000ft of climbing. The route starts in Knighton on the border of England and finishes at Dyfi Junction just south of Machynlleth on the Dyfi Estuary looking out to the Irish Sea. Most groups like to take 3 days to cover the distance, with an ever changing terrain and environment that at time leaves you breathless. We pass through rolling hills that are farmed, steep sided valleys, remote deserts of tussocks and forest. The challenging terrain and inclement weather make the days challenging for some, so it's nice to roll up at a B&B and put some warm clothes on and have a well earned rest and a drink before riding out the next morning.


Our second speciality is our year round Wet n' Wild weekend in the Elan Valley.

There are so many trails around the valley that you could easily spend a long weekend and never ride the same trail twice. We base our weekends out of Ty Morgans that's situated right in the heart of Rhayader, luxury accommodation, fine food and good ale. From here our weekends go out in all directions, toward the west is the Elan Valley, a mixture of lakes amongst a vast expanse of wilderness that's often referred to as the desert of mid Wales. The trail is a mixture of grassy and rocky bridleways, long climbs and fast flowing descents. there is of course the occasional river crossing! We tailor our weekend to suit the group, and a route plan is prepared to reflect the overall ability of the party.

We also guide wherever you may choose to base yourselves, Brecon Beacons & Snowdonia are popular weekends to explore wild, natural singletrack. We can also base ourselves at any trail centre or bike park if you would like some 1:1 or group coaching to give you confidence out on the trails.

Visit our website or give us a call, even if it's just for local information to guide your self around.