Coasteering was invented in Pembrokeshire, and remains the ideal high adrenalin way to explore the wonderful Welsh coastline. Our superb scenery, amazing marine wildlife, crashing Atlantic waves, and indented coastline with steep imposing cliffs create the perfect challenge and the most rewarding journey for coasteerers.
Suit up in neoprene, put on your helmet and buoyancy aid and climb, scramble, jump and swim in the rough water or through a narrow cave, all the time using the skills you've learned to stay safe. That's why it's important to use experienced operators with the right kit, and guides with the knowhow to safeguard you, so you squeeze the very last drop of excitement out of the experience.
Anglesey Adventures, amongst others, cover the coastline of this Holy Island of outstanding natural beauty and TYF Adventure and Coasteering pioneered the pursuit around St Davids in 1986. Operators from the Glamorgan Heritage Coast west to Gower and north to the Llŷn Peninsula are all happy to give you the opportunity to  create lifelong memories.
Find a provider in the search results below, or use our search page to find more activities. 
The Welsh coast can be fantastic fun and provides great opportunities for adventurous activities, but please read up on the risks and make sure you are prepared.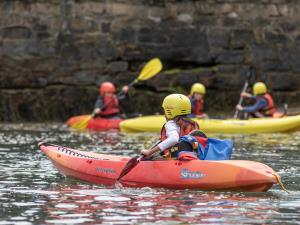 Welcome to Conway Centres, based in Anglesey, "The Adventure Capital of Europe". Our adventure holidays & courses are perfect for everyone, from beginners to advanced participants.