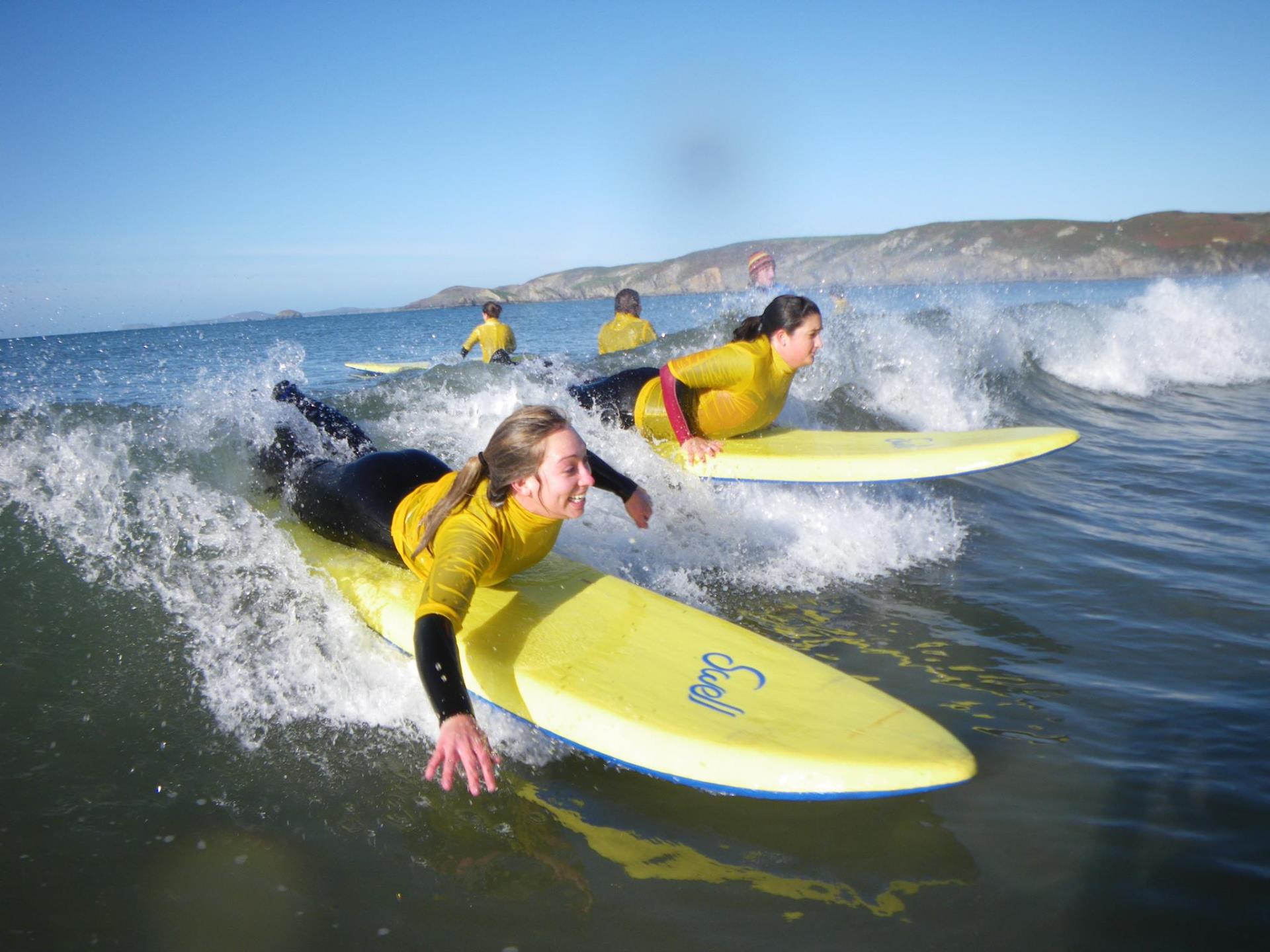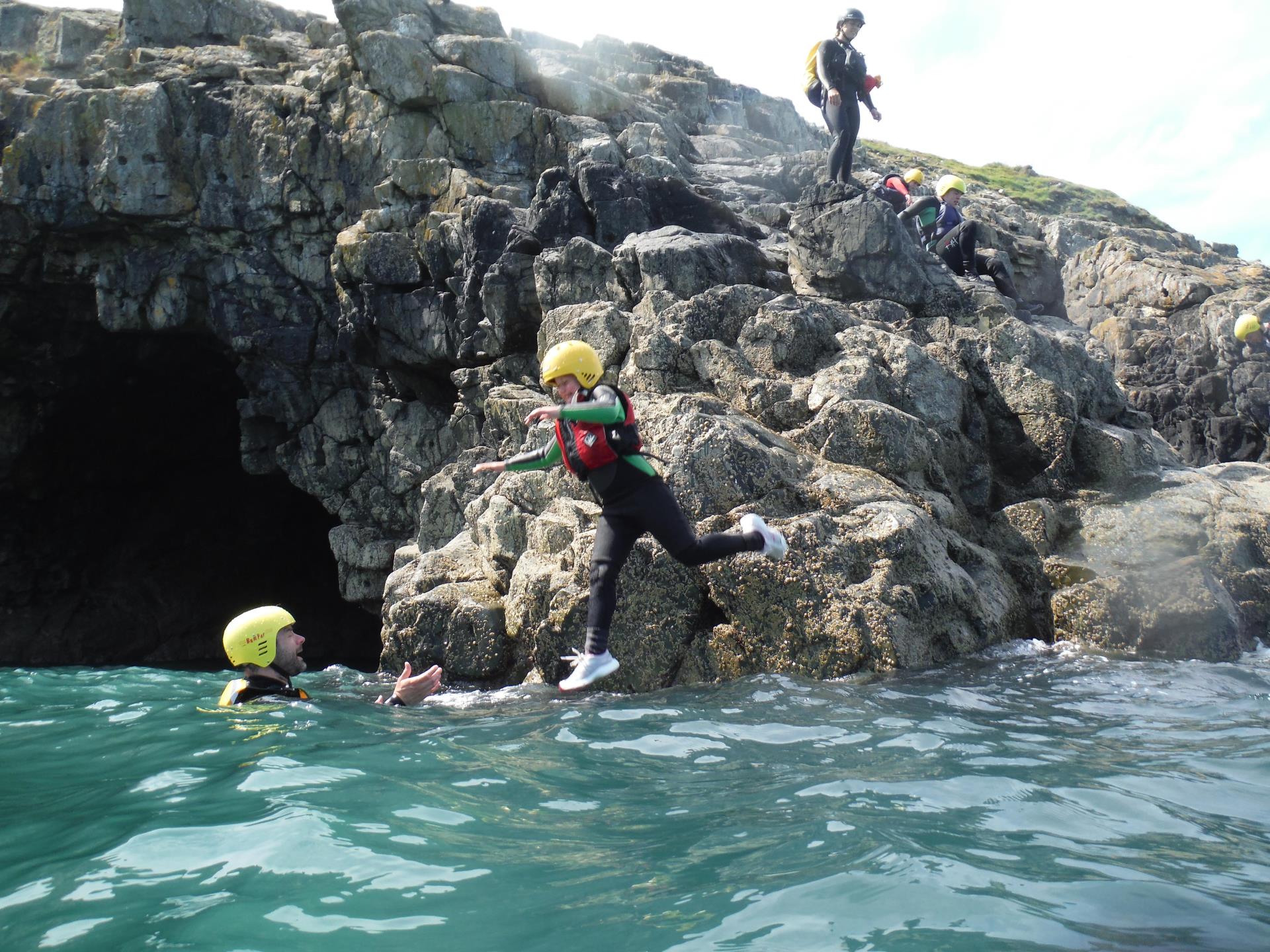 A spirited sanctuary, Preseli Venture is a sustainable outdoor adventure centre with 5-star eco lodge accommodation geared towards providing unique, immersive and memorable experiences in nature's spectacular playground, the wilderness of the North Pembrokeshire coast.

Preseli Venture has been guiding adventures in the Pembrokeshire Coast National Park for over 25 years and has a working partnership with the National Trust to use their nearby pristine locations for coasteering, surfing and sea kayaking adventures. Visitors describe swimming with inquisitive Atlantic grey seals, sea kayaking with pods of porpoises and watching a huge variety of sea birds from diving gannets to nesting razorbills- the abundance of wildlife is astounding!

Their expert team comprises of Pembrokeshire's most enthusiastic and knowledgeable adventure aficionados who endeavour to bring exhilarating and awe-inspiring experiences to everybody, young or old, first timers or seasoned adventurers.

Whether you're bracing the Atlantic air upon beautiful craggy clifftops, taking an invigorating plunge into crystal clear waters, surfing clean, green, peeling waves on sandy 'Blue Flag' beaches or kayaking between natural archways and rock gardens under incredible sea cliffs… Preseli Venture is the place to meet your adventurous edge.

ECO LODGE ACCOMMODATION

Beautifully presented 5 star accommodation, deep in the heart of the Pembrokeshire Coast National Park – a perfect retreat for individuals, couples, families and groups.

Nestled on the hillside of a National Trust wooded valley, only a mile's walk to the secluded, unspoilt beach of Abermawr, the lodge boasts breath-taking views of the wild North Pembrokeshire coastline and offers a relaxed and cosy setting for a memorable adventurous break.

11 cosy bedrooms accommodate up to 40 people with a variety of singles, doubles, twins, family rooms and larger rooms. The lounge is the perfect place to return and restore in front of the wood burning stove with a local brew in hand from their well-stocked and beautifully furnished bar. You can even enjoy all your meals from the comfort of home- deliciously wholesome food prepared by their in-house chef.

ADVENTURE DAYS

Half or Full Day Guided Adventures – Coasteering, Sea Kayaking and Surfing

Take in the atmosphere of the Preseli Venture's eco lodge and enjoy a warming mug of tea or coffee before getting kitted up in super snug wet suits in the comfort of their onsite changing rooms. Then head off to one of the enchantingly beautiful 'secret spots' on the nearby coastline for your half-day adventure! What sets Preseli Venture apart is that they have their own minibuses to access the adventure locations so all you need to do is turn up ready for some unforgettable adventures, knowing you're in safe hands! They also have private off-road car park at their lodge and you can enjoy a delicious home-cooked hot lunch and local ale at their eco lodge restaurant and bar.

ADULT ADVENTURE WEEKENDS AND HOLIDAYS

From the moment you arrive at the eco lodge, you'll be well-looked after by Preseli Venture's excellent hospitality and adventure team who have meticulously planned out your adventure break from start to finish.
Mix it up on an Adrenaline Cocktail Weekend, throw yourself into an Adventure Staycation, detox and reset on a Fitness Adventure break, make life-long friends on their Adventurous Encounters singles week, take the plunge on a Wicked Liquid Coasteering Weekend or break the mould on their wild Stag and Hen Adventure Weekends!
Preseli Venture's all-inclusive adventure weekends and holidays for adults are all about exploring the wild Pembrokeshire coast, experiencing their exciting coastal adventures and also incorporate other local activities such as a boat trip around Ramsey Island, horse riding on the stunning Pencaer Peninsula, stand up paddling boarding from the picturesque Solva harbour or kite-land-boarding on the expansive Newgale sands - all under the expert guidance of professional outdoor guides. Whether you've been paddling tidal rapids or taking an outdoor yoga class, you're guaranteed a good story to swap with like-minded adventurers around a blazing bonfire under the incredible starry night sky of west Wales.

FAMILIES

Lovingly planned, unforgettable and unique all-inclusive holidays packed full of exciting adventure activities for your family.

This is a perfect chance to spend time together, reconnecting with nature, exploring and discovering the magic and wonder of the Pembrokeshire Coast. After traversing nature's wondrous outdoor playground with Preseli Venture's friendly and enthusiastic guides, kick back at their beautiful, fully catered 5 star eco lodge, with delicious home cooked meals, a pool table, a plethora of games and a bonfire under the stars! From cracking clues in the bluebell woods for the well-loved orienteering pursuit, the "Abermawr Challenge", to popping up on a surfboard for the first time, you're sure to leave with extraordinary memories, feeling inspired and reconnected!

SEA KAYAKING

Preseli Venture is accredited by Canoe Wales and has specially crafted a range of sea kayaking weekends and holidays and BCU training courses to suit total beginners to the most seasoned and saltiest of sea kayakers. From half-day coastal sea kayaking exploration tours for families and adults, to sea kayaking weekends and longer 'Odysseys', Preseli Venture offer a slice of the inspirational Pembrokeshire Coast National Park of Wales, a world renowned sea kayakers paradise.

Experience the astounding variety of the coastal scenery with fascinating features to be found under the immense sea cliffs; waterfalls, sea caves and natural rock arches. Kayak through rock gardens, and discover a variety of fun conditions in which to explore and play, from bobbing between sea stacks, catching waves through rocky channels, chilling out in idyllic sheltered coves, to surfing onto secluded sandy beaches.

WALKING HOLIDAYS

Preseli Venture is seated right on the Pembrokeshire Coastal Path National Trail which offers breath-taking scenery atop towering cliffs and access to magical secret beaches, making their eco lodge accommodation the perfect resting spot for walkers. Preseli Venture offers drop-offs along the coast path using their own minibuses from which guests can walk back to the lodge and restore in front of the wood burner with a local brew from their private bar.

Their self-guided eco walking holiday includes a weather proof OS map and an incredibly insightful information pack which sets out a carefully curated itinerary utilising the coastal shuttle bus service to explore a spectacular and well-traversed stretch of the trail. You'll explore a variety of landscapes from steep limestone cliffs, undulating red sandstone bays, to volcanic headlands and flooded glacial valleys.

REVIEWS

"An experience all of us will cherish for a lifetime. It is safe to say, everyone left with warm hearts, big smiles and a little sadness that they had to leave such an amazing place" – Nic Ceja

"Best time I've ever had in neoprene..... We (family of 2 adults and two children) spent an exhilarating, energetic, kinetic, wonderful watery and strangely relaxing time at Preseli Venture. All the guides were friendly, helpful and knowledgeable... For each activity (coasteering and sea kayaking mainly with Emma) we felt safe, learned new skills and had an immense amount of fun. The food was also delicious. Looking forward to coming back" – Warren Williams

Like what you see at Preseli Venture?
NOTE: The above information is generated by third-party data provided by Preseli Venture. © Preseli Venture 2020.